Friday, February 29, 2008'♥
its been so long since i last update my blogg .
i have been busy with my stuff till i neglect my baby and my lappy .
these past few days has been quite hectic .
i have to go to school to practice the song that im going to perform .
on the actual day , alhamdulillah , i managed to pull it through .
so the crowd actuallly sang together with me . mcm popular jek aku .
i find it better to stand up , at least i can move around and conquer my stage fright !
last tuesday , i went off to bugis with my BGF and friends .
i bumped into my boifren . we fought la , so he couldnt bother about me animore .
but the moment i bumped into him , my knees melt to the ground lor then i shed my tears .
he saw me again for the second time , he turned and walked away .
i went off to go after him , lie hindustan la . there , we shouted , violence just to solve matters .
so things were perfectly fine until i get to know he is being secretive .
well maybe its karma , but cmon la , mataer sape kan tk jealous .
aiyo , nvm . ill close one eye . maybe it wasnt intentionally .
bb , for wadeva shit that happens between us , my love for you will never deplete .
it starts to bloom every now and then . so believe me .
though i may not sound sweet on the fone , i still love you la bb .
you're the only one in my heart , i swear ..
i realli miss spending my time with you on every saturday and sunday . chilling .
ill try to make up for it as soon as possible okei .
update soon !
Friday, February 22, 2008'♥
elo 22nd february (:
time check : 215am
ive just hang up the fon after a long chat with my dearest hubby .
he asked me to go to sleep , and not play my lappy , but a few minutes of blogging wont harm the day right ?
today was sooo sooo tired tao .
i met up with him and went to fill up form at tanjong pagar . you know i hated fnb but i have no other choice since i have no experience in other field . but what more can i do kn ? maybe , the time is not yet ): so have to bear with it .
next stop , bugis .
we had our early dinner at tong seng , our faveret makan place .
i had chicken rice and he had fried fish soup . uh uh , not fogetting the wantan and two green tea .
it has been a long time since we had our last meal together . yea , it was sweet . and we smiled at each other , shyly as if it was our first date .
we went to bugis street to SHOPPING !
yea , i bought a lot la basically .
i got myself a bag , 2 belts , 1 pants , i long sleeve tops and a legging .
so so hapi ok ! dpt beli ape yg i nk nk sgt ! (: *two thumbs up*
i wanted to grab for him something , but topman is just not a choice for now due to my budget .
so we made all our way to city hall , marina square . we went to topman again but still couldnt get for him anithing .
quiksilver , i brought him a pair of slippers . he was so in love with it , i suppose . kan baby ? YAY!
decided to bought him something because he accompanied me here and there . then , we went back home .
eager to check my stuff , so i looked up on wat i have spent on today .
saddening , satu plastic koyak . and my leggings are gone ! *sad face* the thing i have been cravin for . though it onli cost a couple of bucks , you know the cravings . but nevermind , just now meant to be mine i guess . so let it be . ala , bkn nye tk bolei beli aru nye kan , aru brape jek . mentang2 lah dah keje . haha (:
met my GF at jurong east ngn mataer die . we had a pool session and off we went back to our home town , but sad to say , my baby couldnt tag along . yes , we had a slight misunderstanding but everything is under control , kan baby ? so quite a couple of minutes chatting with my GF's boifren onli . yea , he needed a listening ear , so why not . at the same time , he advices me a lot . thanks alfian . bb , you byk complain ehk ngn die *hiyakdush* (;
we reminisce the best moments , you shed my tears . im sorry for the mistakes i have done today . ill be better tomorrow .
so tasek again tomorrow . i am so in love with sitting at peak . its like the moon is directly above us and you can touch it lidat . i so so cant wait lah !
thanks tobaby for spending your time with me . though it was short , quality time spent (:
LOVED
Thursday, February 21, 2008'♥
time check : 243 am .
i find it hard for me to sleep early nowadays . i dont realli know why or have the specific answer to it . it wasnt a great month for me because i have to handle with people of different characters and different problems . yay ! its tedious , because i have been fighting with him badly these few days . we are struggling hard to uphold the relationship , but its always me that give up easily . reason : i donno ! way back then , i wasnt like this . yes i noe . i will be the one who would run after the guy , plead him not to break , wait at the doorstep till he returns home . cry till i got sore eyes . i would sacrifice anithing or everything . so long i get to be with the one i love .
but now , it seems so different , i was the one who would give up and he would be the one running after me , wait for me at the void deck .call my mother ro xheck on me , cry on the phone every night and tell me how much he loves SYARACE . but yes , i just wont listen . and i dont noe wads up with me , i felt frustrated with myself . it would be stupid if i reveal my problems in here , it would just add on to laughters and sarcasm to the public . it is also the same as revealing my weaknesses in here . so , its better for me to let the personal matter be just the way it is . even if so , the environment wont change and i still have to deal with it . ill be a strong woman , no matter what . i will go through all the challenges and obstacles that i have yet to face with faith . and to those people who has been with me through thick and thin , i realli appreciate it a lot . thank you .
and baby , its not that i dont love you animore . org giler dan bodo jek ckp die tk syg kan . so yea , let time heals everything . i thank you for being there to accompany me in the evening ro watch the sun sets and watch the moon in front of us at the tasek . thanks for holding on to me when going down the steep , rocky slopes . yea , you sacrifice a lot for me . even the little2 things show . i would like to make a public apology . listen to this :
im sorry fareez azhar for hurting you , for being secretive , for disrespecting you , for being rude to you , for retaliating to whatever you say , whatever that i have done to make you feel upset about it . i will and i must change in order to let this relationship go far . i am not done with you , seriously .
' i want you to wear that ring for me on the special day '
and currently , i am so in love with shawty get loose . it just makes me wanna groove to the beat whenever i tune in to that song . chris brown is loved okei ? my idol .
baby , no matter what , you are always my idol . and no one can replace my idol , fareez azhar (:
ouh . jiwng kan kite . stop it ehk .
people start tagging lah ! blogg aku mcm mati gituk !! ):
Monday, February 18, 2008'♥
yes , we have stoppped everything . now , we do take two hands to clap , and please dont you dare mention to the public that i am selfish and self-centred now . i do what it takes to make both happy and i am tremendously happi now . i dont find it a need for me to rush in this relationship because i know where i stand in your heart . though we fight almost everyday , you make me be a better person in the mere future and also i have a lot to learn about relationship .
its hard to compromise , to reconcile and everything . but i thank god for the opportunity that i had yesterday , to compromise , to reconcile with you . i know that everything has a beginning and an ending . so yea , since its hard to settle things down , lets take it one at a step .
but seriously , the fight we had just now , it was unbearable . i lose my control . i cant stand it . sorri for having to smack your leg with my bag while we are up on the escalator . i dont want to talk about us , about give and take , about sacrifices . almost everything . in life , i just want to have fun and nothing else . i want to live my everyday life like there is no tomorrow .
yes , im leaving slowly . sori for hurting you . but seriously , i had enough of almost everything .
if im ego , i wouldnt want to meet you , i would want to talk with you on the fon , i wouldnt want to reply to your messages . i do not want to sacrifice my strength when it comes to something that has got to do with you . start thinking . i noe we're facing with probs right now . but i dont wish to see a sulking face when im with you . i just want us to be happi . get it ?
im running out of words , let stop here for the moment .
Saturday, February 16, 2008'♥
i noe my blog is no longer important for anybody to read it . but yeah , my laptop went for a holiday for almost two weeks and i onli get it back today . so yea , im not gonna miss anymore chances of not bombarding everything inside my blog now . ouh lappy , you know how much i missed you . now , youve got to make that RAM rolling man (:

i have tons of things to update . so people please bear with me . i have been going out alot since the holidays . i went to stayover at my atok's house at JB during CNY . i had lots of fun . barbeque in the evening , picnic the next day , and jalan2 before i head off to my sweetest land , singapore . and yea , i miss the funs i had here . ive not been enjoying my weekends in esplanade animore , schedule pack ngn family . sori baby , but we will catch things us asap ok ?

i was like so jakon when i went to my uncle's house at JB . so besar ok , i envied that a lot . hmph ! tgu gaji aku 10 ribu aru dpt ruma mcm gituk . lol ! ok bye . (: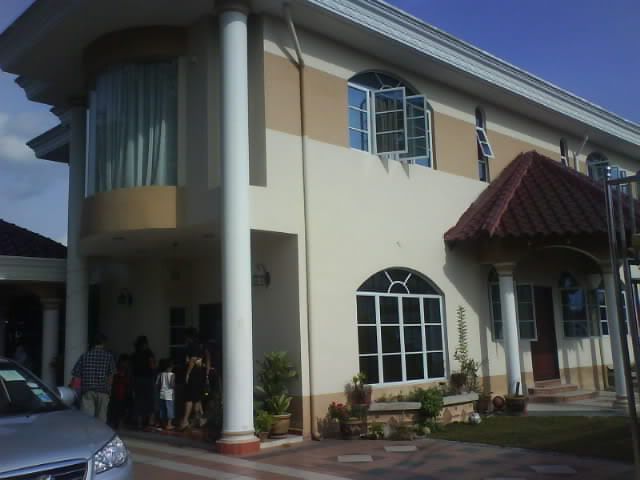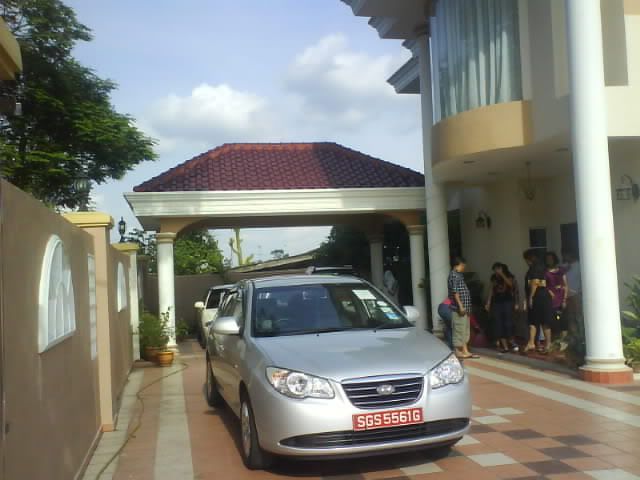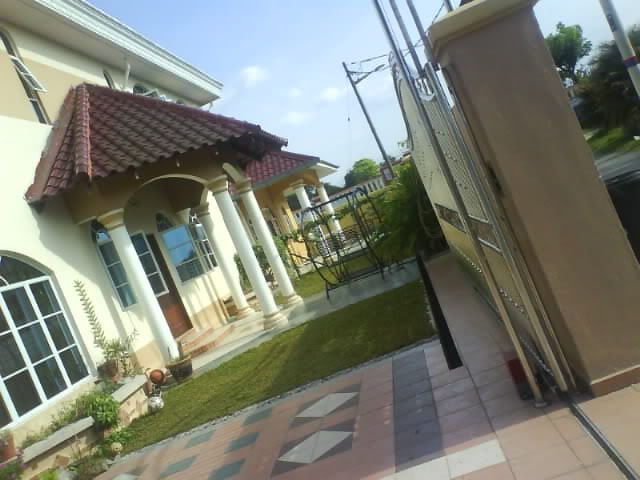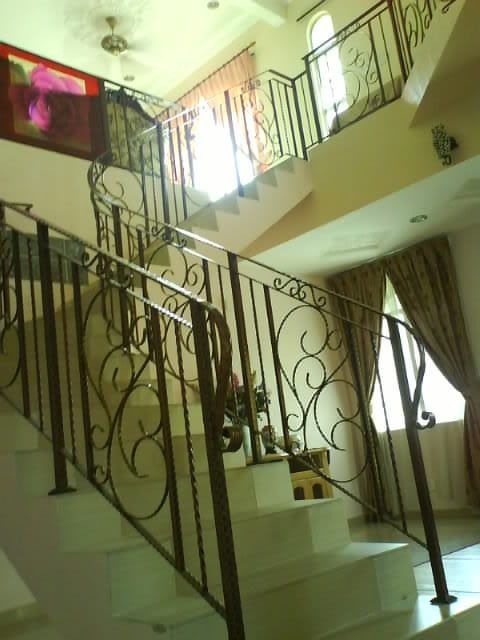 we were through bumps and hurdles for the past few days . but nonetheless , we managed to work things out and there you go , SYARACE is back . we went to had our lunch at LJS before we set of to WCP to watch the sunset together . sister tagged along after that . it was a beautiful time together . we thought of a bowl in the evening but due to time constraint and budget , we only get to play arcade . and i mcm budak kecik la , gado ngn die when i kalah . haha . (: but it was sweet .




and yea , i went over to his place for a family gathering . we snap pictures alot la . naik penat tao senyom . thanks ehk kak bya , my gusi cramp . haha ! anw , i only have them to make my day . they are my cousins , my siblings and my everything . and yea , i misss kak yanti lor . we need to catch things up a lot like dat . and ida , sebok betol keje smpi batang hidong pon dah jarang nmpk . i rindu you all sgt2 !

and baby , thanks for your stay , you realli woke me up from my la-la land . i never want to betray your trust animore . i love you so much , really . thanks for clarifying almost everything with me . and please , forgive me for what ever that i have done to you . i never want to do it again , i swear . im really sori from the bottom of my heart . let me and only me stay in your heart . to lose you is gonna be a great regret for me .

lastly , replug , thanks amir for giving us the chance to stay in the IG . so congrats for your post in replug , president sey ! woohoo ! (:

yana , though i onli get to meet up with you for only once a week , we need to catch up on our everyday life , like the time when i go to and back from school . we need to laugh alot ok ? so yea , set up booth ni mcm mane ?

so finally , our blog
http://www.syarace-confessions.blogspot.com/
is finally active again . thanks to him for remindin me to update . and please baby , rajin2 kan la jari-jemari anda update oke ? you know i like it when u post , you made me smile (: (: (: (: (:



syok sndiri time . amik gmbr sndiri .(:

that love seems so perfect sweet . amcm people ? start tagging la ! org dah pnt2 post nie (;
Sunday, February 03, 2008'♥
im now stucked at my sister's house . me and boifye are having hard time looking for a place to chill out . anw , yesterday , i went to marina square with him. we thought of going to bugis to window shopped but we ended up at marina . so i went to look out for sleeveless and hooded sweater . ok i noe it seems so outdated but i just feel like going streetwear . so grab my long sleeveless at topshop and hooded sweater from dorothy perkins . i am so in love wit it . thanks to the pay . so my bills have settled. i wanted to pay for him first since he is not working but he insisted. ill try to find some alternative ways .
i need as job badly . since leo need me only when the sun set , i better look out for a better job . any company need an employee ? im here to serve you guys with my service . jgn pike lain ehk . i wanted to work something which is totally different from the fnb line . well , better start searching this coming monday . i want to weak office suit . kan nmpk mcm business woman gituk . ok i berangan . haha !
yea , boifye's birthday is around the corner and im palying tons of activities for his birthday . so i hope on the actual day , everything work out absolutely fine . a little update about us . our relationship is going on strong after a terrible fight we had . so everything went out great for us . just a slight misunderstanding these few days , but im sure things will work out along the way .
and yea , im sure you have tuned in to one shot by mario vasquez rigght ? thanks ehk yana sbb recommend kan lagu tu . that song means a lot to me . about relationship, about you going on with him/her . how you wanna things to be but sad to say we all have an imperfect heart and no one is perfect in this world . but its a matter on which weaknesses you wanna act on right ?
so ill have to go now . i gotta get myself ready to town .
and to all , i miss my peeps a hell lot ! and not forgetting my gfs!!
bye
Friday, February 01, 2008'♥
school ends today and im done with my year one. now , i do deserve two and half months break . i have to start working because i need to grab some important stuff for the upcoming events during march . after which in my second year , i have to face more challenges and ill bet you its not easy . so i better like it or ill regret later .
yesterday , i was so tired after work . so the train was packed and i dont have a place to seat . a few stops later , on my way back home , there was an empty seat . so i wanted to grab my laptop which was in between my knees but these bloody bitch stole my seat away .it was obvious and people surrounding me knew that i was about to sit. and this bloody bitch made a decent face as if she knew nothing . ill bet you know what im going to do . i feel like kicking her ass but nevermind , patience is the key to everything . kaki dah sakit lagi die buat aku mengamok . tk bolei give and take . now i know how kiasu the singaporeans are . cmon i bukan gelojoh for the sit , but where are you guys basic courtesy ? nevermind . just not my luck i guess .
so yesterday , this blooding freaking old friend of mine was drunk . and he chatted with me some nonsensical stuff and swear to god when i knew he was drunk , i ignored him . so yea , and because of that bloody fucking guy , i got a god damn bad scolding from him . ull have to pay for that okei ? binget tao ! i tk bersala sei . saddened , i cry okei . terpranjat gituk lor .
bb , you know that i dont want to betray your trust . but please , dont think that im doing it for my own benefit . he is no worth want you are worth for .
enjoy your weekends people .