Sunday, December 30, 2007'♥
ive been craving to blog but i donno wad to brood about .
my weekends were super duper lame !
byg kn i stay at home on saturdae ? dat is so not me ok ?
i usually find for a place to chill .
but anw, there was this one time whereby i went to kallang .
i tot of chilling at the new shopping centre at kallang , the leisure park .
to search for the place realli pissed my boifye and mi off .
so after 15-30 mins of walking , finally we saw it .
wads more ? the place is just open , but no many shops are open .
certain onli .
so we had thoosai at the foodcourt cause there is no malay foodstalls there .
moreover, i dont want to consume heavy meal . (:
after which we chill out at a place near indoor stadium , i cant recall wads the name of the place .
and tell you wad ? the place kn

super duper giler babi

romantic okei ?
the place where i called it the second esplanade .
with unnecessary people around like mats and all . no offence .
next , lets talk about my health .
i am not ok these few days .
have been suffering from giddy and all .
there are others more but i dont wanna talk about it.
i need to go to the doctor and to go for a check up .
yea , im running out of time people .
will update soon !
'♥
things has been quite hectic these days .
cristmas was great. i spent both of my non working days with him .
followed by two days of working .
shit, my body seemed so lethargic these few days .
thanks to it and i have no mood currently because im not feeling well .
and i pretended to be fine in front of everybody & i dont wish to be a burden to anyone .
let me face all these alone .
so my besf and her boifye patched up .
yea ! i was so estatic by it . she has been crying day and night but no matter what , i never fail to be with her and cheer her up .
so try to change okei ? u niid my help just beep me up .
anw, countdown , im in doubts right now .
shud i go or just stay home ?
i ought to be bored if i were to stae at home and if i go out, it is going to be crowded out there .
so what shuld i do ehk ?
mm still tinking .
update soon people .
tc!
yana, asl tk on9? kite nk chat2 ngn u but ure not there when i online .
i miss you okei !
Monday, December 24, 2007'♥
im updating oke people ?
sorri la , bukan tk nk update , tapi tkde mase n connection beb .
busy woman la kate kn .
things has been totally fine these few days .
i went m.i.a because i balik umah nenek at JB okei ?
relax my mind . so ive decided to take a break .
i just want to stop all those fight .
and yea !
yana no matter wad , i wont forget your 25th month with your dearest okei ?
and mine is like 2 days away .
still thinking on what should be done on our 13th monthsary .
i donno wad to update la .
dah la nk kene pki usb cable nk store gbr .
malas nye .
yana , i work at mi sis place .
nk keje childcare centre?
nk engllish ker ? aku d7 mcm mane ehk ?
LOL .
tgu result lagi la ginik .
but people ill update soon okei !
baby , thannks for the message in my sis car .
i noe how much i mean to you now .
you made me blush ok .
3 words with thousands of reasons behind it .
and yea , thanks for being there .
i noe i went mia , uve been searching for me high and low .
and i love you just the way you are.
ill update soon (:
night people.
Friday, December 14, 2007'♥
this was meant to be a random post. u dislike it im sorry , i just feel like sharing .
[ swear to god i dint fight with my bf ]
well, sometimes i just dont understand what one wants in a relationship .
i cant deny the fact every single human beings have ego , but what matter most are how big the egos are .
well, people cant totally blame the girl for evrything that happen .
girls react such way because they have reasons behind it .
maybe they want you to understand how they feel and they want you to change .
but guys things the other way , and that girls are filled with ego .
please , dont get it all wrong .
girls will constantly remind you to stop hurting her because once it hurt, the world starts to change . or worst , the love may just fade away .
when girls start to give up , then guys start pleading . oh come on , wheres the love , initiative , give and take and all ?
the promises you have made on the first day of the relationship ?
cant you think about the sacrifices the girl has made ?
when shes there all beside you ?
when she is even willing to spend a minute or two just for you when she has other things to do ?
guys are just guys . thats right .
sori to a certain extent , im just sharin my point of view .
sometimes , i couldnt get the definite answer to myself .
to my dearest besfren .
i noe how you feel right now .
i noe the past is haunting you down but dont give up ok ?
you guys have made this far . dont throw the rship away .
think about the best moments in life , the anniversary , time spent together .
if things doesnt go your way , change it . maybe a new strategy is needed .
i still remember those time when i was down .
you gave mi a sound advice .
its hard to stand up after a hard fall , but no matter what you have to face it .
to stand on ur two feet is never easy .
work things out , im sure it will work .
maybe another heart to heart talk ? remember ?
thats what you told mi .
if there is a need to cry in front of him , cry then .
maybe that is the onli thing you can afford to do and prove to you how much he means to you .
i m not trying to say that my relationship is perfect but im here to help you .
if you want me to be there to help you and cheer u up , i will .
thats wad frens are for right ?
so wadeva decision that you have made , ill owaes support you .
we should help each other .
and i love the way you guys are .
you guys are simply sweet .
stay strong ok ?
ok im bleaarggghin .
im dozing off now .
nite people (:
Thursday, December 13, 2007'♥
yesterday was absolutely marvellous !
so my faci actually paitao me saying that the class will end at 315.
but the fact is the class finished at 400.
so i rushed all the way to cwp to meet my yana .
she accompanied mi to cwp to search for a necklace.
so i keep on comparing but in the end i bought a black one .
i thought of buying earrings but no money .
i had my lunch cum dinner at banquet .
i had fried kueh teow while yana had chicken rice .
while we eat , we chat , share our things ; girls talk .
then we sat at civic centre .
she helped mi out with my RJ and we do more chatting .
sharring of stories through pictures and lastly we cam-whored .
yala , i appeared to be the one very malu u noe .
but anw , i pulled it through .
not forgetting , ps-ing with yana .
YAY!
so i called it a day .
thanks yana , but no matter what , if u need someone to confide with , im alwaes here for you (:
dont keep quiet and dont feel that ure all alone , cause u alwaes have someone to count on and a shoulder to cry on .
for wadeva decision that you have made , i ll alwaes support you .
so stay hapi and strong !
:D
mother and sister fetched mi at lakeside .
so went home .
mother asked mi to order KFC , so there again .
haha . u noe wad i mean .
ure busy , i understand .
ape bolei uat kan .
sufferings . cause im missing the best part in us .
but it is missing now .
ok people , holidaes is like lusa !
and im not comiing to sch tml . self declared hols ok !
mom asked mi to accompany her to science centre with my nephew .
ill be there for u la mother !
you rock man !
thanks mom , cause youre always there when im all alone (:
wonder woman !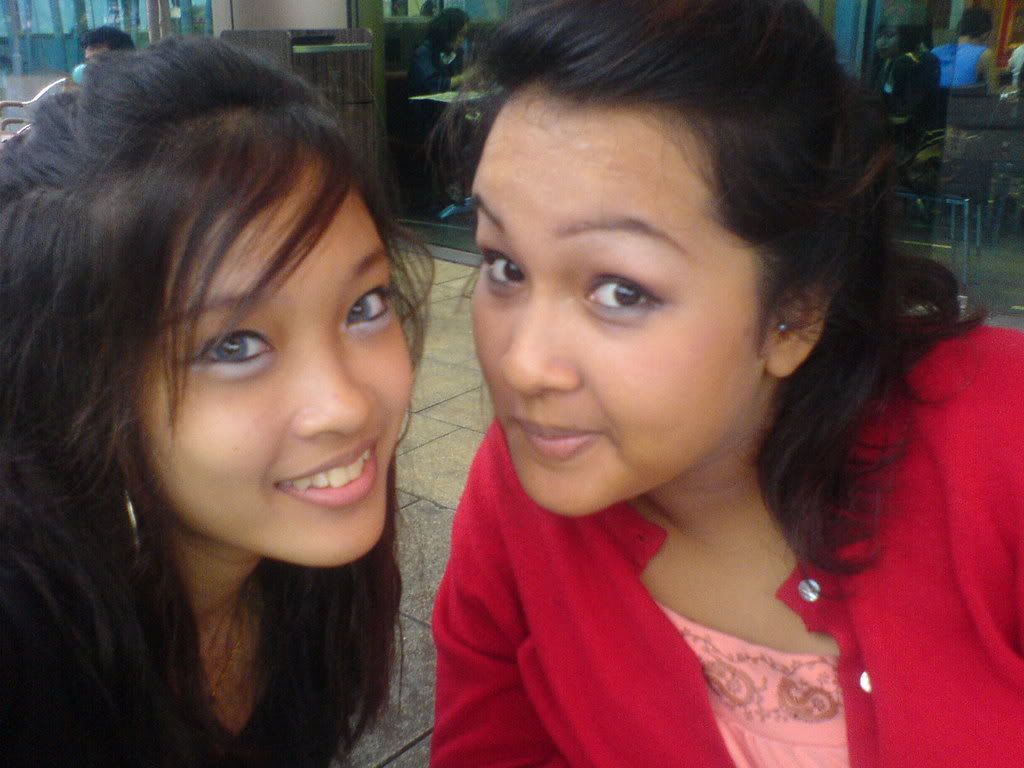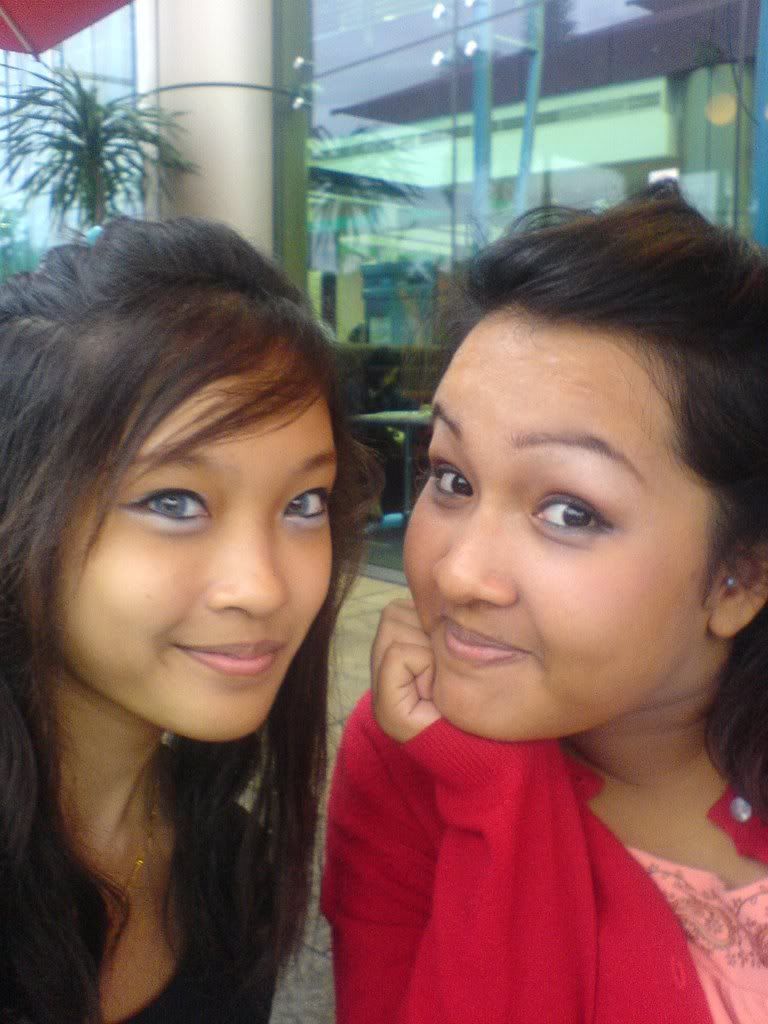 Wednesday, December 12, 2007'♥
i went to school for the sake of sitting for my UT .
after which i went back home .
so

lebahku

fetched mi at woodlands .
i accompanied him to his place to change because he got work to do .
sad , cause i dint get to spend my time with him . its okei (:


i tot of going back home but mom ask mi to go eunos with her to pay a visit at my sis-in -law house.
i actually get the chance to grab two tops . credits to mommy !
a red polka dot and a tube dress .
im so in love with it . thanks mommy (:
i cant wait to wear it on saturday .

i met my sister-in-law and my new born newphew .
his face looks solidly like my brother ; so adorable (;

i have nothing better to do there so i edit picture of my family and him .
i watched dis indonesian reality show , its really sad .
its about a gf who caught his bf red-handed with another girl who is the gf's besfren .
[the gf get to noe all this by reading the besfren's diary]
she was utterly disappointed and asked for a break at the very second .
so the 'new couple' actually ran after her and went to the gf's house .
gf's besfren is trying to talk things out with her , but she get a tight slap in returned .

so, one day , the three of them met up; bf, gf and besfren .
initialy the besfren explained everything to her gf.
she seemed so jealous to see the both of them so happy .
despite all, she care so much about the frenship and she is willing to step back .
she love the frenship more than everything else .
gf was forlorn and she stood up and hug her besfren .
so the couples officially patched up (:
happi ending .
i nearly shed to tears while watching it .
it makes me think about my long lost besfren .
but i have to move on .
people have different behaviours .
it depends on whether we want to live with them or not .

random message :
someone dreamt of being a gay yesterday .
and i laugh my head off ! funny kn ?

anw , im gonna grab a necklace later .
anibody who is willing to tag this poor little girl here ?
my boifye work la. ): hmm
nudge me
take care people .

enjoy the pictures.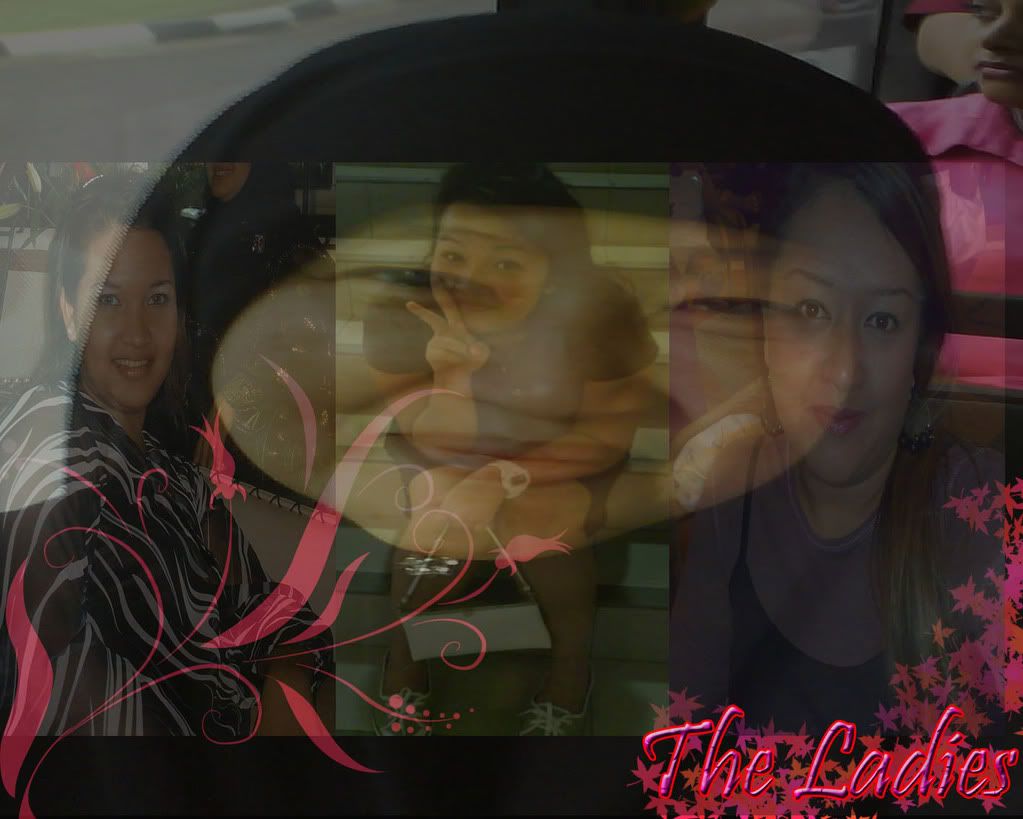 the ladies in the house .


my
LEBAHKU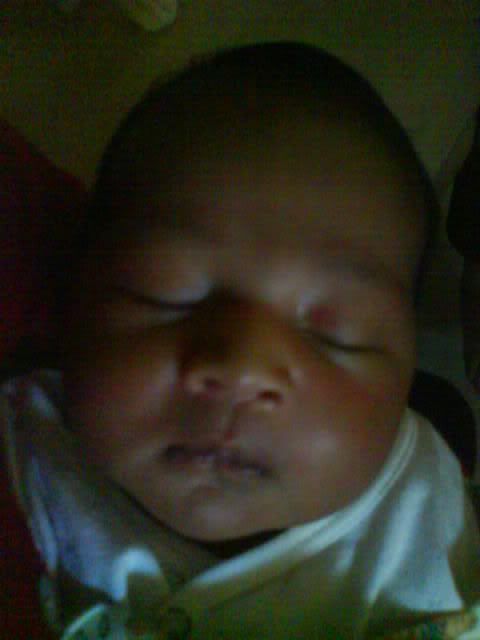 hafiz, sleeping u have me in my arms (:


cute kn ? muke cramped sei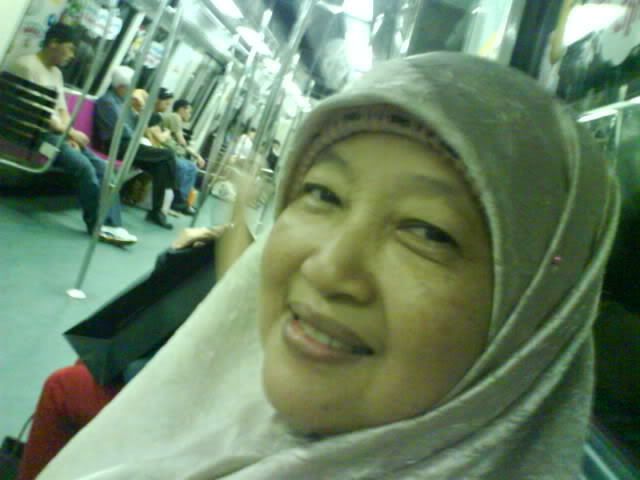 and she who makes my day.
Tuesday, December 11, 2007'♥
credits to me la (:
yesterday was not what i thought it would turn out to be .
ok great la .
spent the whole half of my day with him.
went to dhoby gaut , training and stuff .
and i reached home at 11 .
i was tyred by then .
and now i am sick , haiz .
and no one care .
so ill walk home ALONE .
can anione out there fetch me ?
i cant walk , and im weak .
yana , im here for you .
ill cry together with you .
no mood to blog , just a brief explanation as to how i feel today .mood : suck , hopeless.

useless people .
Monday, December 10, 2007'♥
weekend was absolutely amazing !
im enjoying my life right now .
you manage to make me smile after so long .
thanks

lebahku

(:

SATURDAY :
he came to my house to have his lunch .
it was supposed to be a mini-celebration for my sister and nephew berfdae but too bad ,
both couldnt make it .
so mother was extremely pissed off because a surprise can never be a surprise .
so baby came and cheer mother up * applause *
you see, he is a great boifie .
they really work together and shoot mi off in my ass ok .
I AM GOING ON DIET OKEI ?
SHITOS.
i have to . if not baby have a partner to share the common stuff; FATS with mother .
thanks ehk l:
after we makan , he iron my clothes while i make up .
and he wait for me .
so off we went to dhoby gaut for an interview .
everything end at 8 . so we walked all the way to marina square .
we had KFC while i ate cheese fries . the fact is im full .
mcm mane nk kuros ginik , tgk mataer kite ajak pegi mkn mane .
alamak
so nxt, we went to starbucks. ordered caramel , bought cigarrettes .
and as we lay our ass by the stairs , his cousin called and asked to come down to clementi for a bowling session .
we had a great time .
at 1++ reached home .

SUNDAY :
in order to make up those surprises for my sister , we actually went to her house .
i asked baby to come along but initially he gave mi tons of excuses .
nemind , a surprise .
a small family gathering .
so actually , my FAMILY is still surviving without that brother . [if you know wad i mean .]
the bond is still as strong as ever .
so a hapi lovey dovey bdae to my beloved sister, noriashah
and a hapi belated mated berfdae to my sweetest nephew, danial halifi .
may god bless you all and gdluck in future endeavours .
you guys are loved

<3
now let the pictures do the talking aite . update soon.

a hug i never wanna let go .


my face abit senget la .


starbucks is LOVED <3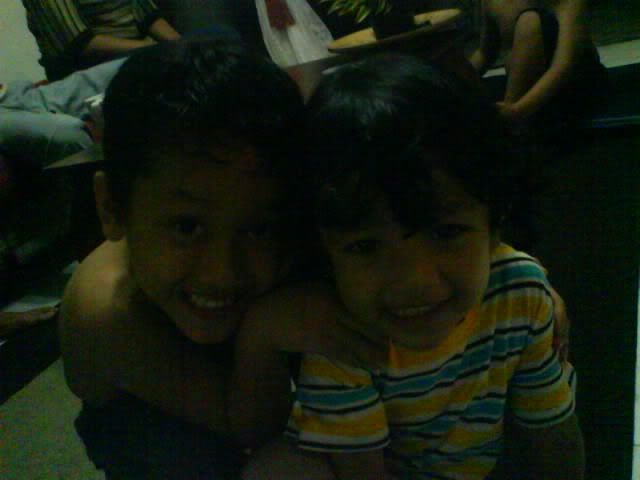 the one in stripes , hapi bdae sweety


hapi bdae kakak


after a tiring dae , she nvr fail to smile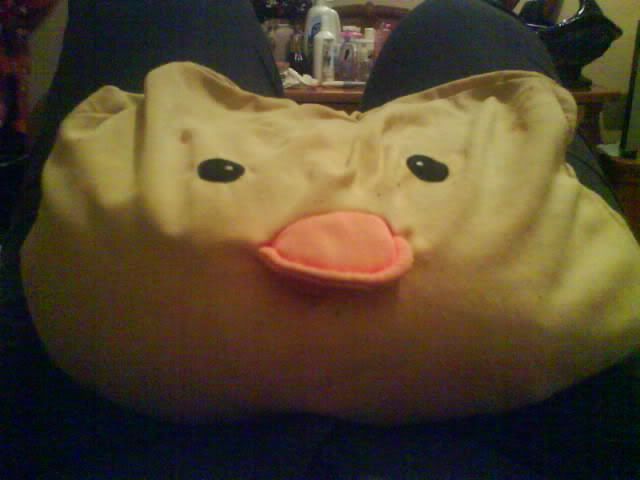 come bb piyo piyo, you have mi in my arms .
[my bantal bushuk ok ]
Sunday, December 09, 2007'♥
i just cant seem to understand with what is revolving around me .
we were actually brooding over small matters .
sometimes , i just feel i could surrender , but when i look on the memories that we had spent together , it is not worth to close the book . i noe theres more to discover along the way .
nothing in this world can make me happi .
like seriously .
even he cant make me happy .
asking for a favour is like begging for money .
i cant describe how my feelings is like right now .
whenever i think of it , i would break down and cry .
thats it , as simple as that to descirbe my feelings .
i noe in relationship, there are give and take .
i can give and take with you , but did you caree and bother to listen to me when i ask for a simple favour .
i noe how it feels if i turn your favour down , so do i .
but , the problem is , u keep turning me down .
i wanted you to complete the whole day of mine, just me and you .
how long have we not spent talking/time with each other ?
theres always something occured at the very last minute , and i noe i cant blame you for that .
it was unintentionally .
well, i guess if i were to type down all the sorrows im in now, i might as well vommit every single shit inside here .
and i noe a day to vommit it out is not enough .
so i guess , ill leave evrything in my lappy
some things are better left unspoken here .
i noe this blog is puclicised and i dont mean to pull someone's moral down .
so i guess next time , illl just lay all my sorrow in Microsift word. that sounds better .
i let out my anger and not hurt anyone at the same time .
let me face all these alone , i m totally fine with it .
im like so used to heartache like dat .
swear to god , i aint going to let out my anger animore .
im gonna get myself bz with things that im not busy with previously .
get wad i mean ?
go figure .
so , ill onli rant when im happy .
so dont bug me to update when i dont .
cause i swear to you ,those were the unhappy moments .
Wednesday, December 05, 2007'♥
the lesson is so

MEREPEK

ok ?
i cant seem to absorb the term realism and anti-realism .
and i have to swear that my facilitator today is so lazy bump !
he did not discuss the questions stated in the worksheet but he actually sit down and stare at his laptop blindly .
i am starting to build castles in the air ; thinking what will happen in days to come .
i just cant stand today's lesson because it seems totally out of point and i see no relation with what i have yet to study next year .
maybe a year in this school is just wasting of time and squinting of eyes to school .
but anyway , i have yet to pull it through .
& im 7 lessons away from holidaes !
3 module UTS more to go and im done .
shake leg for holidays ok ?
i have set many plans for holidaes , and i cant wait for that man !
& dear , wadeva we have planned , jgn tk jadi ok ?
ill be damn bored if it turn out to be otherwise .
now i must say , i can feel the love in the air .
a yr and a month , im counting down (:
well, thats called love right ?(:
my lollipop , stay sweet ok ?
dont turn it sour after i suck it halfway ok?
fighting everday is not making us obtain a greater bond .
but more irritated by each other right ? i noe .
let it be this way .
undefined love .
no predictions , no nothing but pray things would go the way we want it to be .
stay happy people . (:
update soon .
Tuesday, December 04, 2007'♥
ENUFF MEANS ENUFF OK ?
SHIT
BABI
CIBAI
CIKOPEK
Monday, December 03, 2007'♥
i dont want to talk about what happened during the weekend .
there are good and bad part for weekends .
the motherfucking fact right now is that i m in no mood .
like seriously .
whatever happens and revolving around me , i wish it doesnt exist either .
why do i have to face all these?
u ignored mi ?
u scolded mi ?
sometimes i just wonder , do you trully love mi ?
was that meant for hope or just to satisfy your needs ?
whatever it is , no matter how bad that can be , im just trying my best to be optimistic .
maybe, it happened for a reason .
or maybe i am the one to be blamed and im the cause for you to react in such a manner .
i would rather sit in my room and cry all day long than try my best to figure it out .
because no matter how hard i try , i styll coudnt get the best answer .
will you cherish the 1 year relationship with mi ?
again , im wondering .
if confiding is also a mistake , tell me .
if it is , then define the word love for me again .
because i cant understand what does love really is for you .
oh gosh , im so sad right now .
i just need you to cure my heart .
i cant hold on to these any longer .
if you come across my blog , i would like to say this .
please , do something .
i do love you . but why are you doing this to me .
dont sae that you dont know .
if you start to feel neutral towards me , ok , tell me .
if happiness is what you want , id go .
if you think you cant hold on to it , tell me .
but dont give mi all these arguments and behave like that and you want me to seek the answer all by myself.
and i cant do it .
unrequited love again ?
haiz , can people help mi ?
please talk to mi .
i want that heart to heart talk right now .
now this is the first time i blog while shedding my tears .
i just cant bear all these .
i tot after one year, it would be new and we start all over again .
but the matter is , the past haunt us down .
Labels: depressed.